Meet the team
Lelystad Airport has been open for 50 years.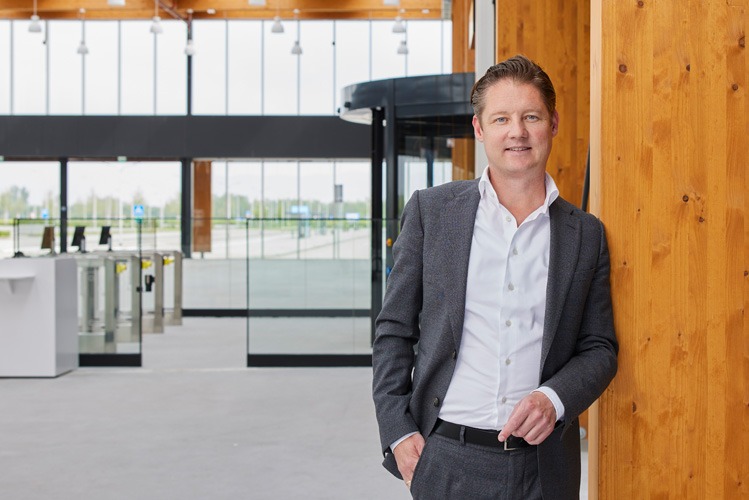 Jan Eerkens: CEO of Lelystad Airport
Lelystad Airport has played a central role in the aviation industry for 50 years. As the largest General Aviation airport in the Netherlands, we currently facilitate 80,000 aircraft movements per year. What is sometimes overlooked is the bustling activity that has been taking place here for many years. Some talk about an airport that is yet to open, but if you visit the airport, you will see that on busy days, there are more than 450 aircraft movements per day, and many employees find their way to one of the forty-five businesses at the airport. Those who speak of an opening are referring to our future situation, the passenger terminal that has been visible on the Flevoland landscape since 2018.
In the current situation, the decision to open the new passenger terminal and allow commercial traffic has been met with controversy. However, the situation for Lelystad Airport remains relatively unchanged. Lelystad Airport continues to work on the two preconditions set by the outgoing Minister Harbers before any decision is made:
– Obtaining the environmental permit
– Finding a solution for the approach route to Lelystad Airport near Lemelerveld
Lelystad Airport is an important part of the Dutch airport system, the Netherlands' air connectivity, and Dutch travellers. We would like to see a new government provide clarity on the future of Lelystad Airport as soon as possible.
Strong community relations
Lelystad Airport can play a role in taking over night flights from Schiphol, which will then be daytime flights at our airport. We are clear to our community about the fact that the airport operates between 6:00 AM and 11:00 PM.
Lelystad Airport has a strong relationship with its surroundings and immediate neighbours. We work closely with a group of farmers united in the 'De Lelystadse Boer' foundation. They maintain the grass on the airfield and will be supplying local products to the hospitality and retail sectors soon.
Once Lelystad Airport is allowed to handle commercial traffic, we will boost Lelystad and Flevoland while, at the same time, help Schiphol and its local residents reduce noise nuisance.
Both local and provincial authorities are hoping for a positive decision because of the additional employment opportunities. Some of them are opposed to aviation, and we knew that from the start, but we engage in conversations with everyone, including those opposed to it.
Largest General Aviation Airport in the Netherlands
Developing a General Aviation airfield into an airport for commercial traffic is a substantial and complex project. In addition to the infrastructure, the organisation also underwent significant changes, which was quite a challenge and demanded a lot from our employees. The new terminal is not yet fully ready, but visitors are always amazed to see how complete it already is.
We are ready to become the new holiday airport of the Netherlands
We are prepared for commercial traffic.
For this, we have raised the control tower, where Air Traffic Control the Netherlands (LVNL) has been operating since November 2019. We also extended the runway and constructed a passenger terminal. The new terminal was built to be as sustainably as possible and has LEED Gold certification. The building is well insulated, minimising energy consumption. Areas where passengers spend only a short time, such as the entrance hall and baggage reclaim, are not climate-controlled. The climate system operates only at security, in the lounge, and the waiting area at the gate. A heat pump has been installed for cooling and heating. The terminal has no gas connection.
We've been open for 50 years!
We, the Lelystad Airport team, are proud to celebrate our 50th anniversary. This year, we marked the occasion with the unveiling of a miniature version of Lelystad Airport in Madurodam. Not only Lelystad Airport employees witnessed the unveiling, we also wanted to celebrate the airport's 50th anniversary with Lelystad's future generation. In collaboration with our partner, JINC, we organised a competition for primary schools in Lelystad. The prize, a fully organised school trip, went to CBS Ichthus Primary School. The students from grades 5 to 8 travelled to Madurodam with Lelystad Airport and had a wonderful day. It is fantastic to see those happy faces during the unveiling of our airport.
Jan Eerkens, CEO Lelystad Airport: We are now waiting for The Hague's final decision to open Lelystad Airport's gates for commercial passenger traffic.
Nicky: Lelystad Airport is the largest General Aviation airport in the Netherlands, with good weather, we are having up to 450 aircraft movements a day.
Jelle: When I was asked to set up the fire brigade here, I did not hesitate for a second.
Esmèe: I am proud to be part of our 50th anniversary project.