Meet the team
Lelystad Airport has been open for 50 years.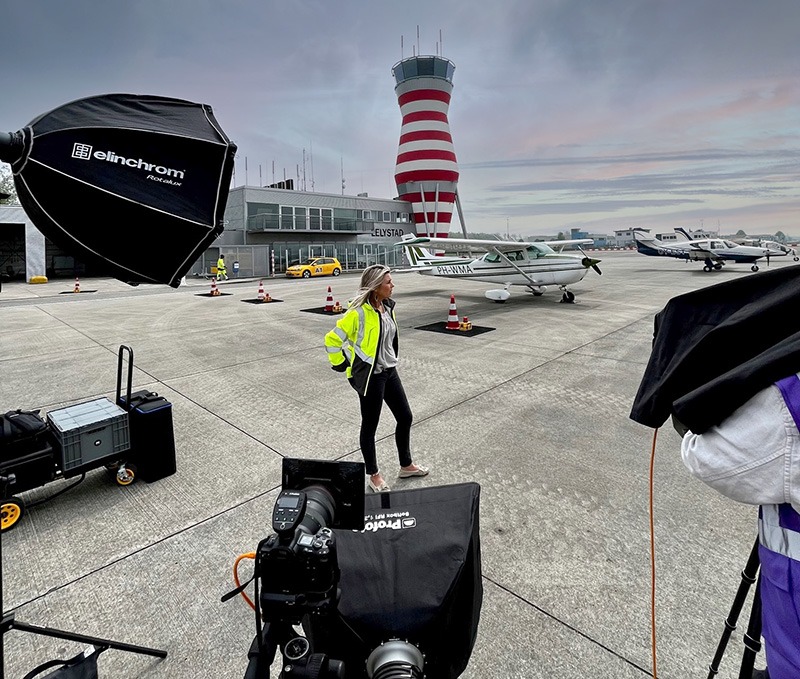 Nicky: Supervisor Airport Operations
Lelystad Airport is the largest GA airport in the Netherlands. I am working in the General Aviation Terminal. For those who think nothing happens here: if the weather is good, we have up to 450 air transport movements a day.
If you consider that we have one runway and limited opening hours, you can imagine that it can be very busy here. GA, General Aviation, covers all sorts of air movements. Private planes, sports planes, training planes, helicopters, sightseeing planes. The hangars hold some 150 to 200 aircraft, every square metre is occupied. And they are used regularly. During the time of coronavirus crisis, we even were the busiest airport in the Netherlands.
I have seen many changes since I started working at Lelystad Airport. Great strides have been made in the past four years.
We have gone from an informal airport to an organisation with structure and tighter rules and procedures. Since 7 November 2019, Lelystad Airport has been an airport controlled by Air Traffic Control the Netherlands.
And we need to be if we want to grow into a passenger airport. The ball is still not finally in the court for the latter, but I remain enthusiastic. Of course, it is a setback for everyone if there is another delay, but it will happen one day. We are all convinced of that.
Despite everything, the atmosphere remains good. Simply because working at Lelystad Airport is great fun. We have a great team, everyone knows each other, the lines of communication are short, also with management, and the work is varied.
Jan Eerkens, CEO Lelystad Airport: We are now waiting for The Hague's final decision to open Lelystad Airport's gates for commercial passenger traffic.
Nicky: Lelystad Airport is the largest General Aviation airport in the Netherlands, with good weather, we are having up to 450 aircraft movements a day.
Jelle: When I was asked to set up the fire brigade here, I did not hesitate for a second.
Esmèe: I am proud to be part of our 50th anniversary project.